A show of contemporary dance, flamenco and audiovisual set designs that immerses you into a journey. This connects the reflection and denunciation of the Crack of '29, distilled in Federico García Lorca's "Poeta en Nueva York", with the present time; a cry to the "sweat without fruit", to the "sky of numbers and laws", an awakening to reconnect with our essence, a call of "alert, alert, alert".
The show is directed by the choreographer Carmen Vilches in collaboration with Lara Balboa (dancer and assistant director), Óscar Martínez (audiovisual set design), Pau Cirre (audiovisual set design) and Javier Viana (dramaturgy and musical production).
This dance piece, performed by a cast of twelve dancers from LamatDance Company and Cía. Danza Vinculados, is a tribute to "Omega" by Enrique Morente and Lagartija Nick (with lyrics and music by Lorca and Cohen), which is considered the most transgressive flamenco-rock album of all time.
The music of "Omega" is combined with a new musical creation produced by Bum Creaciones for the show. The lighting by Héctor D. Ruano complements the projections by Útopi Social Films that transport us to New York.
A show with "granaínas" roots that was premiered at the Museo de Las Cuevas Del Sacromonte in summer 2017, with a sold out every night during a month. Now returns adapted to the stage area, maintaining its initial essence, but revealing a great work of renovation.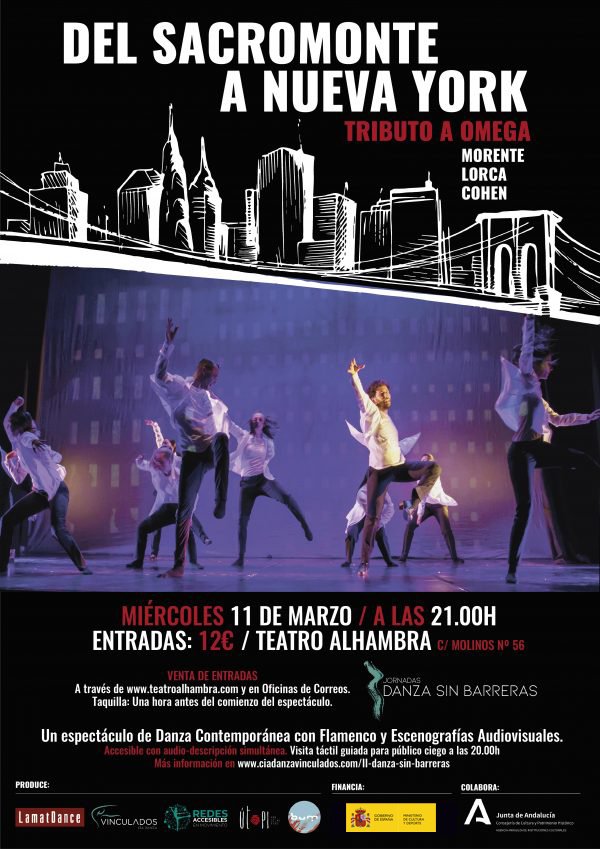 Inclusive and Accessible Production

The production is also inclusive and accessible. Two of the dancers in the cast have disabilities and this show is part of their professionalisation process. In addition, the staging is accompanied by an audio description for blind audiences, who are provided with headphones with which they can enjoy the live audio description.
The performance is also preceded by a tactile guided tour in which the audience is invited to a 15-minute session behind closed doors where they can touch the dancers in movement, touch the props and listen to descriptive explanations that will help them to perceive the dance piece during the performance.